Part One: Why Golf is So Popular and How to Open Your Own Golf Course
Over 24 million people golf in the U.S. Of the millions who golf annually, eight million people consider themselves avid golfers.
Golf courses offer players a place to enjoy the game, practice a little stress reduction, and maybe even grab a bite to eat. Most golfing spots offer an 18-hole golf course, though some have only nine holes.
Golf is a growing business worldwide. In fact, you can find a course in almost every city across the United States.
Five Reasons People Love Golf
Golfers come to love the activity so much for a variety of reasons. Some of the most common ones are listed below.
1. Golf is both relaxing and burns calories. In nine holes, you can burn an average of 771 calories. If you play 18 holes, you can burn as many as 1441 calories. And, you have a great time along the way. There aren't many sports that offer this combination.
2. Golf is challenging, yet easy to learn. With golf, as with all sports, mastery comes only after long practice. The sport is simple to understand, but to truly get the knack of it, you have to work hard.
3. Golf is fun. The reason it is such a treat to play golf is that it never becomes boring. With each shot, you have several variables to consider: the wind, the club to use, the intensity to hit the ball with, and the distance you need to hit the ball. Keeping these considerations (among others) in mind keeps a player from tuning out.
4. Golf is both a group and an individual sport. Playing against others is a necessity, but while you are doing so, you are always working on your individual game. You are always weighing your shots and thinking about your own ability level. But, the beauty of playing golf as a team is that it forces you out of your own comfort zone and raises the bar of your playing. It compels you to take harder shots and improve your overall game.
5. It's a business tool. In 2020, the golf course is the go-to spot for conducting business. The reason: the game offers a relaxing, laid-back way to hold informal meetings. It's less stressful than sitting at a big table drinking stale coffee. Associates get a chance to enjoy the fresh air and the green grass while making deals and resolving business issues.
15 Key Steps to Get Your Golf Course Started
If you are thinking about opening your own golf course, there is a lot to consider. Setting up a golfing concern requires foresight and planning. Admittedly, it's a huge undertaking, but after you do the preliminary groundwork and make the initial investments, you could easily achieve maximum profitability within a few years.
What follows are the essential steps to get you started.
Step 1: Develop a business plan.
Your plan should indicate the name of your business, its potential profitability, and the specific amenities you plan to offer.
Step 2: Consider the upfront and ongoing costs of opening a golf course.
Upfront Costs: If you decide to build your own course, the biggest initial outlay will be spent on land. Most courses are around 200 acres. You will also spend a substantial amount if you hire a custom home designer to build your clubhouse.
Because the expense of building a golf course is so enormous, many people opt to purchase an existing course. The Golf Course Market lists courses currently for sale.
Ongoing Costs: The most significant annual costs are employee salaries, maintenance fees, and taxes.
Step 3: Decide your ideal location and target market.
Ideally, you want a golf course in an affluent community. You want golfers who can afford the fees you charge. If you can find a spot where you can attract business and community leaders, that will be a huge plus. Also, you want to try for a location where you have a 12-month playing season.
Step 4: Determine how much you plan to charge customers.
Courses built since 1990 charge on average $60.55 per weekend round. Some courses where PGA tours have played charge as much as $495 per round.
Step 5: Examine the ways you can maximize profits.
Golfing fees and cart rentals make up the bulk of the profits for golf courses. But, some of the other ways to make money are: golf equipment sales, food and beverages, and golfing lessons.
Step 6: Make sure all your electrical requirements are met and that your plumbing is in order.
You can hire a local electrician and a top-shelf plumber to help with this.
Step 7: Get an isolation transformer.
These transformers protect against electric shock and are also useful in suppressing electrical noise. Marine isolation transformers are great for boats while toroidal isolation transformers should work on your golf course.
Step 8: Ensure you have appropriate lighting and a good irrigation system in place.
Keeping your grounds well-lit and beautifully green are of maximum importance to attracting and keeping golfers.
Having an ongoing relationship with a local plumber is the key to keeping your sprinkler/irrigation system in top-notch shape. Anytime you have questions, they can help.
Step 9: Make sure you are up to code on all necessary laws.
Check with local utilities providers and get a good attorney to assist you.
Step 10: Form a legal entity.
You need to register your business to avoid being held personally liable in the event you are sued.
You can choose to register as a limited liability company (LLC), a corporation, or a doing-business-as (DBA) company.
Step 11: Register your business for tax purposes.
Check all local, state, and federal regulations. And, be sure you apply for an Employer Identification Number (EIN). This is like a Social Security number for businesses.
Step 12: Get a bank account and credit card.
Find a local bank to help you set up the best account for your golf course.
Step 13: Set up a website, social media account, and digital marketing plan.
In 2020, one of the best ways to maximize your profits is by creating an appealing web presence. Start a Facebook page, create a Twitter account, and get a blog to give weekly golfing insights to help attract golfers to your golf course.
Step 14: Get a business accountant to help you keep your business on target.
A solid accountant can keep you on financial target. They will keep you on track financially.
Step 15: Get the right permits and licenses.
You can end up sitting with a perfect golf course on your hands that is inoperable if you don't get your permits and licenses on time.
Part Two: Some Other Useful Considerations For a New Golf Course Owner
Business Moving Companies
If you need help moving your business, there are many business moving companies that specialize in these types of relocation services. You can often find a local mover to handle it for you.
Annual Checkup
Once your golf course is up and running, make sure to perform an annual business checkup to ensure the overall health of your business is on track. This is just like going to the doctor for your annual checkup. These check-ins are vital to ensure the health and longevity of your business. You need to look at all the areas which lead to a robust business — financial, legal, marketing, insurance.
Customer Convenience
Don't let your POS paper roll stock get low. You can get paper rolls for your cash register online. a 50-count case costs around $60.
Accidents on the Golf Course
Anytime sports are played, injury is a possibility. If anyone is injured while playing on your golf course, you can help by offering the names of local accident recovery specialists. These clinicians specialize in non-surgical solutions to injuries. You should also have coverage for any outside maintenance specialists you need to hire, like long wire workers and electricians.
Keeping The Golf Course Up and Running
Effective maintenance is an integral part of a lucrative golf course. The sprinklers have to be working. The lights need to be functioning properly. The grass needs to be mowed. And, the golf carts must be kept up to speed.
Golf courses are always needing power lines installed or repairs on their electrical systems. In fact, choosing to work as an electrician can be a great career move if your golfing business doesn't work out. Power line installers and repairers earn approximately $70,000 per year. Find the best company to work for online — or better yet, hire these companies to make your golf club shine even brighter.
Get a Golf Pro On-Site
Having a golf pro on-site is a great way to maximize the profits from your golf course. A good pro can help young golfers fix some of the rookie mistakes they tend to make. A pro can also help sharpen up the skills of more accomplished golfers.
Offer Value-Added Services at Your Golf Course
Golfers at your course might enjoy computer terminals set up around the clubhouse where they can watch golf greats giving tips on the game. You can find can set the computers to YouTube where you can find a host of pro golfers giving advice on ways to achieve your A-game.
Part III: Improving Your Golf Game
Five Tips to Help You Get the Shot Right
1. You need to get dead-aim on your shot. Some golf pros consider this to be the most essential advice you can give to a golfer. Golf is above all a target-based game, and if you don't take dead-aim, you'll miss the shot.
2. Pick the right intermediate point. This can be a blade of grass or a twig, anything that lies between the ball and the target.
3. Get the posture solid and firm. Make sure your setup matches your shot.
4. Smooth tempo. Make your swing slow and easy but speed up right at the moment of impact.
5. Breathing and balancing. Think of yourself as a Zen master and breathe slowly and deeply when you swing.
High-Tech Tools
Golf Watches
You can find golf watches that incorporate the standard activity tracking options (step counting, heart rate, and blood pressure monitoring) with pre-programmed information about thousands of golf courses worldwide. With these watches, you can see a "green view" of the course which shows the layout of the green and the location of course hazards. Some of these watches also offer swing tracking.
Motion Capture Golfing Technology
Motion capture tools are all the rage right now. Sports scientists used to be the only ones who had access to them, but now athletes can use this sensor technology. It's simple. You attach the sensor to your golf glove and it will track club speed, backswing length, and club plane tempo. The sensor works wirelessly via Bluetooth. You can get updates on swing analysis on your smartphone during practice. Also, some of these devices are pre-programmed with the PGA players and their swings, so you can learn from the best.
Laser Range Finder
You can now perfect your range using laser range finders. You can lock in on a flagstick at a range of over 450 feet with some of these devices.
Golf Simulators
You can play a virtual golf game at some of the best courses in the world with these simulators.
Skateboard Carts
With these carts, you stand with one foot in front of the other on the board. You put your clubs upfront. The carts are motorized, and there are handle-bars with a throttle that moves you forward and allows you to stop.
Light-Up Golf Balls
Not everyone can get to the course during the daytime. If you're one of those who plays often at night, think about using light-up golf balls.
Golf-Tool Pocketknives
These pocket knives have a tee punch, a ball marker, and a groove cleaner. Though not as high-tech as some of the other options listed, this is a good tool to have on hand.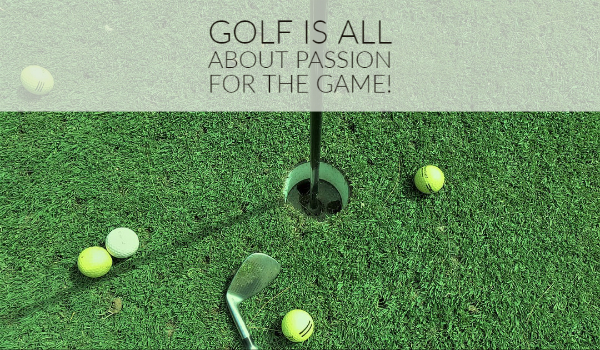 A Great Golfer is a Great Yoga Breather
You don't have to sit cross-legged and chant to improve your breath control. However, you can begin using the ancient science of breath control taught by yogis for centuries to help you improve your game.
Controlling your breath will help you control your mind and body. In turn, this will help you have a calm and steady hand so that you will have a better chance of getting the shot right.
You can begin practicing breathing exercises with immediate benefit on and off the golf course.
How to Practice Breath Control
Set aside 20 minutes out of your day to begin. Morning is a good time to do it, so you can center yourself for the day.
Sit quietly in a chair (or on the floor if you prefer). Eliminate external stimuli like music or television, and make sure you turn off your smartphone.
To warm up, take three deep breaths, following the in-breath and the out-breath, and counting off each breath. Then, proceed by counting your breaths for 20 minutes.
If counting your breaths does not appeal to you, try Zen master Thich Nhat Hanh's suggested method. He recommends using the phrase: "Breathing in, I know I am breathing in. Breathing out, I know I am breathing out."
If you perform breathing exercises for 20 minutes every day, you will soon find yourself doing it while driving, working, or golfing!
Golfing Passion
Golf is a rewarding pass-time, a great sport, and a passion for many. While there are many varying components to starting your own golf course, spring is here: Get out your clubs, and hit the golf course that you created.
Like this:
golf ball marker alignment tool, putting alignment marker, 3 line ball marker, ball line marker, ball marker alignment, dead aim ball marker review, double line golf ball marker, golf ball marker for putting, golf poker chip game rules, how to use a golf ball marker, pga rules marking ball green, vector putt ball marker, what ball markers do the pros use, dead aim alignment marker, golf ball marker rules, golf ball stripe marker, how to use a ball marker in golf, one putt golf ball marker, what are golf ball markers used for, golf ball 3 line marker, golf ball aligner.